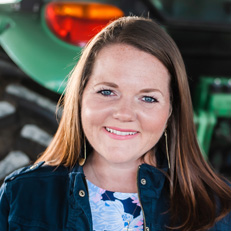 MELISSA RABURN – LICENSED REAL ESTATE AGENT
Melissa Raburn is a licensed real estate agent with Fischbach Land Company.
Born and raised on a strawberry farm in southern Hillsborough county, Melissa grew up with a love, respect, and admiration for the agricultural way of life. She is a graduate of the University of Florida with a degree in Agricultural Education and Communication. Melissa brings a unique skill set to real estate. With her background in agriculture, she is able to help determine the potential for agricultural land, but also a has passion for envisioning the client making a home base for their family.  She is known for integrity, honesty, and realistic expectations to help paint the picture of what a piece of land or home could become.
She serves as board member for the Florida Strawberry Growers Association and is a member of the Florida Baptist Children's Home Porch Light Council. Formerly she served as Florida FFA State President, program coordinator at Banner Center for Agriscence (Florida Farm Bureau), and now serves as social media and marketing professional for Hinton Farms Produce, a family farming operation.
Melissa resides in Lithia and is a Member Realtor© of the Greater Tampa Association of Realtors© (GTAR).
Expertise
• Land Brokerage
• Land Use
• Land Planning
Specialty
• Agricultural Land
• Farmland
• Ranch Land
• Acreage Homesites
• Homes on Acreage